Who Are You From the Dragon Prince?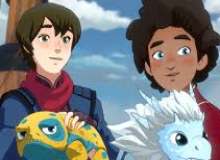 Ok so I am a total fan of "the dragon prince" And I just binge watched the whole series and then after that, I took a quiz and I said to my self "I need to make a quiz for the dragon prince so I decided to make a few!
Please take this quiz and maybe leave a smiley face to show that you care! Its ok if you don't take this quiz! Just please have a nice day!!! To be honest, I like Zym the most, *whispers* no offence humans ha ha he he he he.