What The Dragon Prince character are you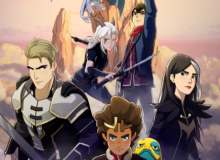 In The Dragon Prince fans loved it for all of its characters. So which one are you?I recommend making a quiz here because it's fun! Have a fun time doing the quiz!
In this quiz the results are:Rayla, Aaravos, Ezran, Callum, Commander Gren, Soren, Opeli, Sol Regem, Lain and Bait. Sorry for missing out some characters. This is my first quiz so hope you enjoy!
Created by: Shapeshiftingshipper