Five Temperaments Test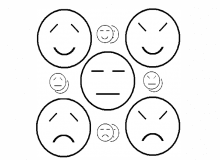 Welcome to what is apparently the only free-to-use online Five Temperaments test! Five temperaments is a theory in psychology, which expands upon the Four Temperaments proposed in ancient medical theory.
The discovery of a fifth temperament came about with the creation of moderate scales. Experts found in the low expressive, high responsive area an all-new fifth temperament (Supine, also known as Leukine or Eclectic), while Phlegmatic became deemed as the moderate in all scales, take it or leave it temperament.
Created by: Ezekiel