Which Tribe of Wings of Fire Dragons do You Belong In?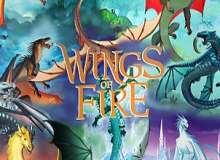 Have you ever wondered what dragon you would be in the Wings of Fire book series? Well, you're about to find out! In this quiz, you will get accurate percentages of how much you are like each dragon.
Here's the best thing about this quiz—there are 10 POSSIBLE DRAGONS!! That's right! There are not ONLY the 7 dragon tribes of Pyrrhia, but there are also the three dragon tribes of Pantala! Please enjoy this quiz! 😊
Created by: Hazel K. B.