Wings of fire what tribe are you in.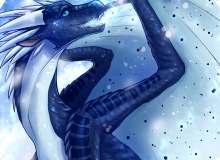 This quiz says what type of dragon we think you are from the awesome wings of fire series. Enjoy. Keep note you could be a hybrid which is a dragon that is a cross between to types if you want this simply do the quiz twice.
You could be a kind Mudwing, an arrogant ice wing, a colourful rain wing, a great swimmer sea wing, a fun sky wing, a dark night wing or even a smart sand wing the opportunities or endless I hope you thoroughly enjoy my quiz XD.
Created by: Seal-guineapigXD