Which Sister Squad Member are You?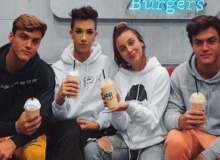 Hi sisters! Everyone knows the iconic Sister Squad - Emma Chamberlain, Ethan Dolan, Grayson Dolan, and James Charles. All of their personalities are so iconic and different. It's time to find out which Sister Squad member you are.
First, take an educated guess - who do you think you're going to get? But don't let that guess change the answers to the questions. Answer them as honestly as you can. Have fun!