Which Squad member are YOU?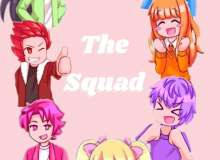 Which squad member are you? Come try out this quiz to see who your similar to in the squad! This is my second tie doing a quiz like this, actually, I think this is pretty good!
Rules are simple, answer the questions, see who your similar too- See? It shouldn't be THAT hard.. QwQ Thank you so much if you finish this quiz! Now, DO THE QUIZZZZ!
Created by: ZK