Which mythical creature are you?!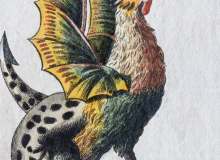 Take this quiz just to find out which one of these creatures you'd survive the best with. Just for the sake of potential witch spells where you get to turn yourself into something else. Idk I think everyone should be prepared for that!
Based on some basic personality questions and from learning a lot about different kinds of people "cough… Katie… cough" and getting to talk to an old fellow I met out in the Rockies "cough cough… Bigfoot" I think this will be pretty accurate.
Created by: Evangeline GM