Are you a Animus? Queen? FireStorm? or a hybrid?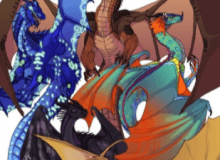 This Quiz is going to tell you who you are most likely to be, A Queen? An Animus? A Hybrid? Animus Queen? I am a Animus Queen, Queen Gale, Hope to see my fellow dragons out and beyond in Pyarria.
So you just click one of the answers under the question and that will add up to what You are most likely to be, I just hope that you find this quiz helpful and remember to rate me - Queen Gale P.S, there are 10 questions.
Created by: Audrey Gibbs