What Dere Type are You?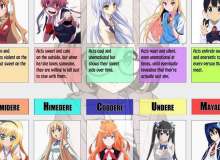 Do you like anime? Then you probably are familiar with the term dere types. It's a basic way to show a character's personality. Take this quiz to find out your deer type!
This quiz includes: Deredere, Dandere, Kuudere, Tsundere, Yandere, Dorodere and himedere/oujidere. All of the answers are based on very common tropes in media.