The Guardian: Part 5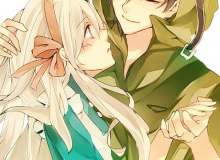 Okay, hey peeps. Wassup? Anyway.. This part, part 5, is definitely a shocker. Be prepared to be surprised. ***WARNING*** I'm wasting your time right now, so just go read the story.
Lol, if you are reading this part, you obviously don't know how to follow directions. Congrats! You're just as awesome as me, mwahaha. I dunno.... I'm really just trying to fill space.
Created by: ghettobabe4ever