Jungle Explorers: Part Two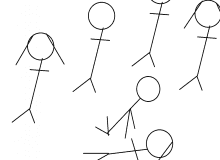 Shoutouts! Ericat, for writing your great series. ghettobabe4ever for reading this. izme for reading my other series. I hope that everyone who reads this series is satisfied with the story.
Also, I did NOT forget Charlie in the results this time. But he's not in this part. Um, I think that's all. Oh, I might've said this before, but if you have characters from stories that you might like in my story, please tell me!! Okay, go read now.
Created by: Weirdhead