Jungle Explorers: Part One (Only for girls.)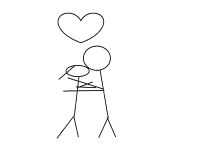 First, I'd like to thank ghettobabe4ever once again, but this time because she gave me some names and because of her awesome series. Also izme, who's read some of my stories. Lastly, I'd like to thank Ericat for writing Second Love.
Okay, now for what's going on here. Three students from Queenbay Highschool (Abigail's school) and three students from Richarroad Highschool have been asked to stay in the jungle for a month, trying to get to the finish line first. Abigail, Carly and Hadley are from Queenbay and are leaving today, with their teacher and Abigail's boyfriend Charlie to watch them depart.
Created by: Weirdhead