How well do u know the best youtubers ever (The KREW)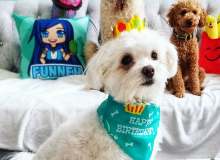 Hiiii I'm glad ur taking this quiz it's a long one but thanks so much! GOOD! Hope u enjoy and LOVE funneh even more after this! I'm proud of u for taking my quiz!
In this quiz u will answer 16 questions about the KREW. If u get below 40% GO WATCH MORE VIDS GURL/BOI! I suggest watching at least one vid before u take this quiz.
Created by: Jr. Potato