Do You Know Leopard Geckos?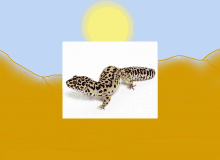 Hi everyone! It is Anshaida's birthday soon! So I made a quiz for her, I hope you enjoy it! But PLEASE don't steal her name, ty, I'd REALLY appreciate that. I made the quiz image by the way, not the leopard gecko, but the background then I.. you get it.
Also please say Happy Birthday to her, ok? It's not her birthday yet but please do it, ty :) also don't forget to see my other account Sen51 and to rate all of my quizzes and comment, ty!
Created by: Sen_Si