Basics of Scottish History Quiz: Scotland and the World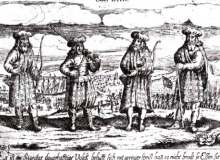 Scotland is one of the oldest nations in the world, having been around, more or less, for well over a millennium. That has given the Scots ample time to forge linkages with other parts of the world, and this they have done with industry and enthusiasm. Scotland, as a result, has long been a highly connected country - a lot more so, indeed, than even many of its own citizens realise.
But what did these worldwide connections look like? This quiz will test you on the whole gamut of Scotland's global interactions from the Middle Ages to the 20th century. It covers everything from politics and warfare to culture and trade. Are you an expert on global Scotland? Or will you show yourself up as completely clueless. There's only one way to find out...