Basics of Scottish History Quiz: The Jacobites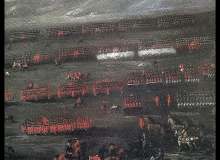 Scotland is a country that likes to revel in the supposed romance of its past. And no aspect of Scottish History has been so thoroughly romanticised as the Jacobite movement. From 'Bonnie Dundee' to 'Bonnie Prince Charlie', Killiecrankie to Culloden, Lady Nithsdale to Flora MacDonald, Jacobitism has been immortalised in print, in song, and on the screen. For many people, both within Scotland and elsewhere, the tales and iconography of the Jacobite age are at the core of their understanding of Scotland's past.
But how much do YOU know about Scottish Jacobitism? Focusing largely - but not exclusively - on the various risings, our quiz will put you to the test. Will you turn out to be a budding expert on Jacobitism in Scotland? Or will you end up being revealed as totally clueless? There's only one way to find out...