Would I Be Friends With You?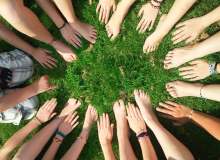 Hey there! I'm Chameleon, and as always- I shall describe myself. I have light skin and ombré hair, it fades from dark brown to a lighter brown. It's wavy and currently at shoulder lengths, my eyes are brown after they faded not long ago from a hazel color. People think of me as extroverted and friendly.
I can be extremely insensitive due to the fact that I don't have experience with serious emotional issues compared to others. My life is kinda perfect, I hate to say. Many things that I do are based off of making people smile or laugh. It pains me to see someone unhappy, disappointed, hopeless, or discouraged. I've felt all these before and the feelings just come back whenever I see someone with those feelings.