Wolf love story! Only for female wolves!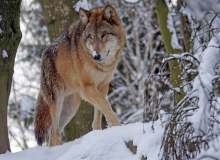 Hi! I'm Wavewhisker, queen in Riverclan, and this is my new wolf love story series! This story is about wolves, and it is not a warrior cat series that I usually work on. Well, have fun playing! I hope you like it!
This is a wolf love story. A wolf in Silverflame pack named Dawn will choose which wolf in her pack really likes her. There are male wolves named Icicle, Crow, Cloud, Pine, Rain.
Created by: Wavewhisker