Wings of Fire character maker pt. 1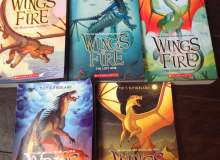 Hey guys happy Martin Luther King day! So yes, these are not my OCs but still. A part 2 will come out. It will also have two fanmade tribes; AngelWings and CrystalWings!So yeah, I wanna give some shoutout to some of my favorite people.
So the shoutouts; Katy Perry! I love your music! I can't believe anyone would underestimate you!, Sia and David Guetta! Go She Wolf and Titanium! Your incredible!, Angelica Hale! This girl is on fire!, and my favorite dancer at the end of the quiz!
Created by: Princess Opal