Which Warriors Clan Do You Belong To?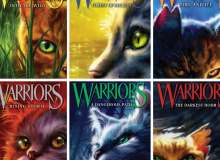 Hello! This is my next quiz and it's about one of my all-time favorite fandoms: WARRIORS! This quiz will determine which of the five clans(Shadowclan, Riverclan, Thunderclan, Windclan, and Skyclan) you belong in.
I just have 1 message before you begin. Sahdowclan is the BEST clan in the Warriors universe! I don't understand why everyone(including the authors) is so hung up on Thunderclan. It's like Gryffindor. The brave and chivalrous and loyal. But Shadowclan is so freakin' cool! We are dark and mysterious, cunning, intelligent, and we know how to get past difficult situations. Shadowclan is BEAST but it's often underrated whiches really annoys me. Sorry, I'm ranting. Have fun taking the quiz!
Created by: Cinnamon_Roll