Which Of The Core 4 Are You?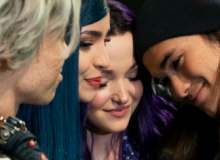 Descendants is a 2015 American musical fantasy comedy film directed by Kenny Ortega and was released by Walt Disney Pictures on July 31, 2015 to positive reviews and 6.6 million viewers. It starred Dove Cameron, Cameron Boyce, Booboo Stewart, and Sofia Carson.
Which of the 'Core Four' are you? Sly Jay? Clever Carlos? Beautiful Evie? Or clever Mal? Find out your inner Mal, Evie, Jay, or Carlos by taking this quiz!
Created by: FourHeartsAsOne