Which KOTLC Character Are You Most Like?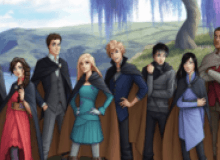 Which Keeper of the Lost Cities character are you most like? This quiz will tell you! There are eight options, Sophie Foster, Keefe Sencen, Fitz Vacker, Biana Vacker,
Dex Dizznee, Tam Song, Linh Song, and Marella Redek. Not guaranteeing this will be accurate but oh well *shrugs*. Also if you do not ship Sokeefe please do reconsider. Thank you.
Created by: LexiTheSoKeefeStan