What Star Stable horse should you get?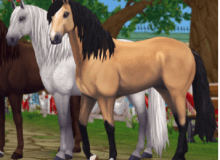 Hey! So.. are you not able to chose what horse breed to buy? Well this quiz is for you! Simply answer each question as best you can, and try to avoid the "I don't care" button as much as possible.
Hopefully you are satisfied and do like the horse you get. Of coarse, you don't have to get that one, it would just fit you the best. Anyways, good luck!
Created by: Crazy_Horse_girl