What Star Stable horse breed are you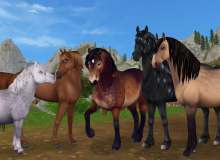 Hi! Welcome to this quiz. If you want to know what horse breed you are in Star Stable, or even just in general, this is the quiz for you. This was based off real information I gathered so that it was as accurate as possible.
So... this is the first quiz I made with this website, so I hope I didn't make any mistakes, and it goes well! Anyways, I hope you enjoy and get the horse you wanted!.
Created by: Laurel Maciejko