What should you wear?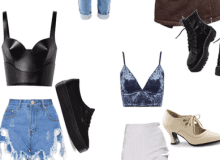 Welcome to my quiz! Have you ever just not known what to wear? If so, this quiz is meant for you! The results you can get are a comfy, fancy, athletic, casual, or cute outfit. Of course, you don't have to actually wear what your result tells you to, its just a recommendation!
Please comment and rate this quiz. Also make sure to share this quiz with your friends! I hope you enjoyed taking my quiz and I hope that it helped you choose what to wear!