What Magical Weapon Will Choose You?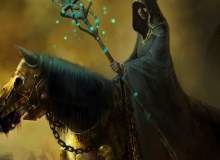 Imagine that you are a warrior in a universe different then our own. You have lived an ordinary life; or as ordinary a life as one can life in a land of magic. Scattered around the world are the 4 weapons of power: The Glowing Sword, The Bow of Mist, The Dagger of Darkness, and the Frozen Axe. Each one represents a certain kind of heart and spirit. Different people have owned each weapon of power through the centuries, but when the wielders die, the sword chooses another holder, and they are brought together through fate.
Now imagine you are one of the people that was chosen to be the holder of one of these powerful weapons. Which one would be the one to choose you? Which represents your kind of energy, your way of fighting? This quiz is more than just something that's cool to imagine and play, although it is that too. It may end up teaching you a little about yourself.
Created by: Fierce