Using word clouds for SEO keyword analysis
Wordle is an online tool that creates "word clouds" out of text.  Basically, you feed it some text and it generates an image of jumbled up words, with the size of each word determined by how frequently it is repeated.  One way to think about it is, Wordle gives you a rough idea of how a search engine spider sees your page.  This may be helpful in your SEO efforts.
For example, here is a word cloud of my blog post on geolocation. (click for larger size)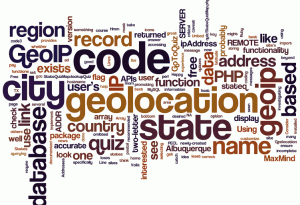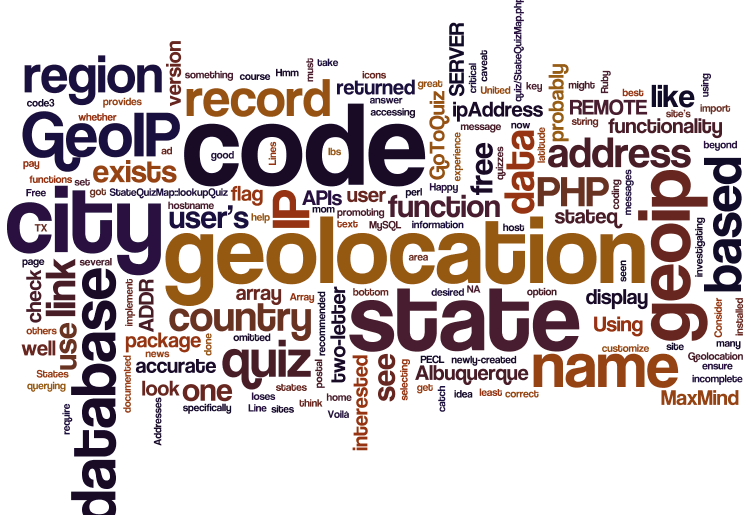 Instantly, the main theme of the post jumps out, with words such as "geolocation", "city", "code" and "GeoIP" featuring prominently.  Then you also see secondary words, such as "region", "PHP", and "database", adding additional context.  In SEO terms, the larger words are your keywords.  The font size represents your keyword density.
Another word cloud after the jump: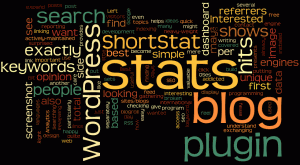 This one is from my WordPress stats plugin post.  It practically reads "WordPress stats blog plugin" which perfectly captures the topic of the post.  (I think my favorite thing about Wordle word clouds is the placement of little words inside larger words, e.g. "blog" above.)
Of course, analysis of the on-page text is far from the only consideration search engines make when they index a page.  Link text, title, headings, page rank, and more all factor in.  But for a quick and dirty look at how a bot might analyze your page, Wordle is an interesting tool.
Share your thoughts, post a comment.