Royalty-free state flag icons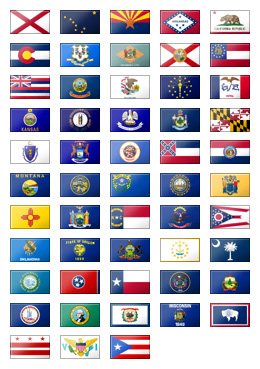 I needed a set of US state flag icons, but I couldn't find find a nice royalty-free, no-cost set in the size I wanted.  So I went ahead and created the set on the left.  I think it came out pretty well.  The set includes all United States state flags plus Washington DC, the US Virgin Islands, and Puerto Rico.  Each flag icon is 40 by 24 pixels.  Some required minor cropping or width-extending to fit the uniform size, or to improve the clarity of symbols on the flag.  Each flag has subtle shine and shadow effects to enhance their appearance.
Feel free to use these in your own project, commercial or non.  All I ask is for a link back to this blog.  Here is a zip file containing the 53 icons in PNG format.  Each is a little over 1KB in size and is named after its two-letter postal code.  See the included license.txt file as well.  Do not re-sell this set or re-host it on any "free graphics" or "clip art" sites or collections, or I will come after you with my team of lawyers. Or ninjas. Or ninja lawyers. And you wouldn't want that. =)
Feel free to let me know if you've found these useful by posting a comment below.
Share your thoughts, post a comment.