Image copyright can be a thorny issue, and most web designers are not legal experts. But you've got to be confident that you have the right to use any image you place on your site. If you need an image for free, there are a few sources available. Two are PD Photo (PD standing for Public Domain) and the public domain category of Wikimedia Commons.  In fact, all images used on Wikipedia display copyright information when you click on them.  If the image has an expired copyright, you can use it royalty-free.
Another option is to check the Prints & Photographs Online Catalog at the US Library of Congress web site.  Not every image there is free from copyright restrictions, so always double check.  Here is their info page on copyright.
stock.xchng used to be a good source of free images, however they've been bought by GettyImages and require payment now for most of the available content.  If you are willing to pay a small fee, I've had a good experience with Dreamstime (they've recently added a free section, too).
Another possibility is to buy one of those stock image collections, such as Big Box of Art or Art Explosion.
You get a huge number of searchable, royalty-free images.  A lot of the images are not the best quality, but some are useful.
One final note: always read the fine print.  Even "royalty-free" can have stipulations.  If the image features a person, also look for an indication that a model release form was signed (if your project is commercial).
UPDATE: I recently found this free image site that provides you with the Photoshop PSD files.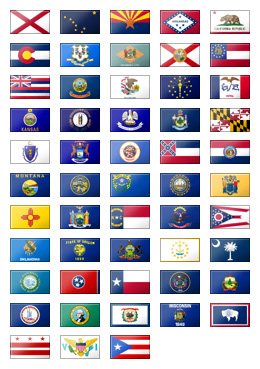 I needed a set of US state flag icons, but I couldn't find find a nice royalty-free, no-cost set in the size I wanted.  So I went ahead and created the set on the left.  I think it came out pretty well.  The set includes all United States state flags plus Washington DC, the US Virgin Islands, and Puerto Rico.  Each flag icon is 40 by 24 pixels.  Some required minor cropping or width-extending to fit the uniform size, or to improve the clarity of symbols on the flag.  Each flag has subtle shine and shadow effects to enhance their appearance.
Feel free to use these in your own project, commercial or non.  All I ask is for a link back to this blog.  Here is a zip file containing the 53 icons in PNG format.  Each is a little over 1KB in size and is named after its two-letter postal code.  See the included license.txt file as well.  Do not re-sell this set or re-host it on any "free graphics" or "clip art" sites or collections, or I will come after you with my team of lawyers. Or ninjas. Or ninja lawyers. And you wouldn't want that. =)
Feel free to let me know if you've found these useful by posting a comment below.