The Ultimate Watership Down Knowledge Quiz!!!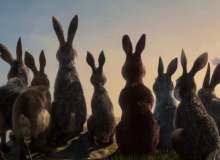 "All the world will be you enemy, Prince with a Thousand Enemies, and when they catch you, they will kill you. But first they must catch you; Digger, Listener, Runner, Prince with a Swift Warning. Be cunning and full of tricks, and your people will never be destroyed. "
My dad read the story of Watership Down to me when I was about eight years old and I have loved it ever since. The characters are so real, and the story has such depth, that I could read it a hundred times and I would love it nonetheless. As a matter of fact, I have read it many times, and know it like the back of my hand. However, it is fun to challenge my knowledge every now and then, and (since you're reading this) I'm sure you feel the same. So I searched throughout the book and compiled a collection of not so well known questions to create "The Ultimate Watership Down Quiz"!!! Just do your best and have fun!