The Gang Meets Class 1-A (Mha) (Ft. Friends) (Part 1)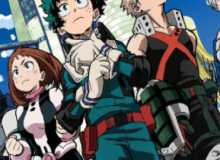 SHEEEEEEEEEEEEEEESSSSSHHHHHH! We Met Class 1-A! SHEEEEEEEEEEEEEEESSSSSHHHHHH! There Will Be A Part 2! Cause This Was Short. It's 12:00 Am My Time Right Now, (Cause I'm Creating This Quiz At Midnight Rn) So My Fingers Are Tired. Please Enjoy This.
Please Make Sure To Rate, Share, And Comment! I'm Trying To Get To Advanced Or At Least Senior. It Would Help Out A Lot! Don't Forget That You Are Awesome! And Have A Great Day!
Created by: Horror Lives 2 of The Gang Meets Class 1-A
(your link here more info)