Super-Hard Scottish History Quiz: 17th Century Edition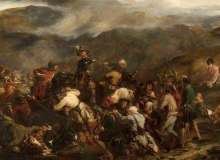 The 17th century may well have been the most action-packed hundred years Scotland has ever experienced. Boasting regal union, a civil war, Cromwellian conquest, two revolutions, and attempted imperial expansion, it was a century of breathless development. But how well do you know this tumultuous period? Our fiendish quiz will let you test your knowledge.
But be warned: this is no ordinary quiz. These questions ask you about obscure or less well-known aspects of 17th-century Scottish History, some of them so esoteric that even specialists might struggle. So, are you well-versed enough to survive possibly the hardest Scottish History quiz on the internet? Click 'Start' to find out...
Created by: Dr Allan Kennedy of Centre for Scottish Culture, Dundee
(your link here more info)