Jungle Explorers: Part Seven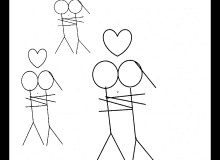 This is the last thing of the series... I'm sorry. But I'll do another short series, very short. More like one story. So look for that. The only result for this quiz is Michael, and you'll find out why.
Ericat, ghettobabe4ever, and Houndlover, thank you all soooooo much for reading this and doing all you've done. Thanks for writing all of the series you've written. I'll miss you three over summer break, but I may come back at some point during the summer. Good bye.
Created by: Weirdhead