Go on a date with Peter Parker! (role play quiz for girls)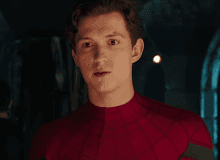 Haya! It's me again! If you haven't done any of my quizzes yet, I'm MCU quizmaker. This is my second quiz I've made so far. If you haven't taken my first quiz, "Are you an MCU expert? (test your MCU knowledge)" go check it out! I only make Marvel quizzes so look for my name if you like Marvel. Please make sure to comment on all my quizzes, I always like to see what people think of my creations. And please rate my quiz good so it can make it onto the front page. Thank you!
This quiz is for anyone who is in love with Peter Parker. FOR GIRLS ONLY!! In this role play quiz, you will pretend that you go on a date with Peter Parker and he will tell you how he feels about you. Who knows, he may tell you he's in love or that he never wants to see your face again. It all depends on how you act and talk to him. Shall we begin?......
Created by: MCU quizmaker