Five Temperaments (Control) Test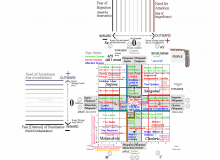 Five Temperaments is a theory in psychology, which expands upon the Four Temperaments proposed in ancient medical theory. This is the only free test online which measures the area of need called Control.
There are the three areas of interaction in the Five Temperaments, which behavior and personality are divided into: Inclusion (How much you generally include other people in your life and how much attention, contact, and recognition you want from others), Control (How much influence and responsibility you need, and how much you want others to lead and establish procedures and policies), and Affection; (How close and warm you are with others and to what extent you want others to show warmth and support to you). These three areas of need were taken from Fundamental Interpersonal Relations Orientation (FIRO) and used in the Arno Profile System (APS) to measure the temperaments. This test will measure your Control score.