Do You Know Fairy Tail(the anime)?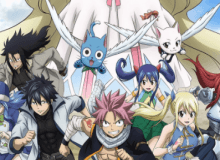 There are two people in the world- can you guess?(If you guess girl and boy, you are wrong. sorry) The answer is... MANGA AND ANIME!!! Did you guess it?
Anyway, if you have heard about Fairy Tail- the anime- then this quiz is all yours! Enjoy! Oh, by the way, I hope that you don't get a big, fat, zero. And if you do? I'm sorry.
Created by: I'd rather not say