Dancing Alone: The prologue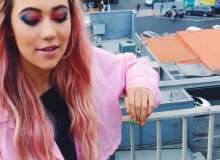 Hey guys. So, this is basically just the beginning of my new series, and I'm just trying to see if it'll be enjoyable for you all. I won't actually start the entire process of making this until I wrap up my other series.
I'd like to dedicate this to Houndlover, one of the nicest people I know on here ( and somehow one of the evilest at the same time). I'd also like to thank Ericat and WeirdHead, as usual. Oh, btw, the results are poems, by me.
Created by: ghettobabe4ever