Basics of Scottish History Quiz: Medieval Edition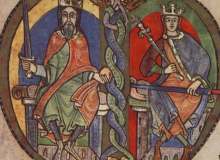 The Middle Ages were a crucial period in Scotland's History. It was during this era that Scotland formed and matured as a kingdom, striving to play a role upon the wider stage of medieval Europe while simultaneously having to defend its independence repeatedly in the face of a vigorous and aggressive England. But this was not just a period of political change and brutal warfare: it was also during the Middle Ages that Scottish culture and intellectual achievement flowered, producing a magnificent but often underappreciated legacy in literature, architecture, scholarship, and more besides.
But how much do YOU know about medieval Scotland? From kings and queens to poetry and universities, our quiz will test you on the basics of Scottish History from the 11th to the 16th centuries. Good luck!