Am I Ready For A Pet Rabbit?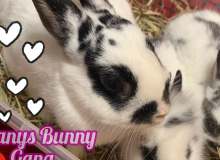 A bunny is a big commitment & responsibility. It is very important to learn about proper care before getting any pet to provide the best life possible.
Take this quiz to find out if your ready to take the next step & get your new rabbit! To meet my bunny gang, for bunny advice & more check out Tiffany's Bunny Gang on YouTube.
Created by: Tiffany Michael of Click For Bunny Tips & More
(your link here more info)