The Best Wings of Fire Love Story Part 1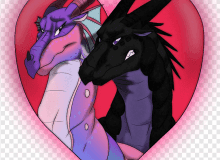 Hi, and welcome to Part 1 of my WoF Love Story! These kind of quizzes are common, especially among series like Warrior Cats, but there are rarely any for us FanWings!
This quiz takes you through life in Pyrrhia, from trying to survive dangerous attacks, to choosing which dragon you want to end up marrying, in the perspective of a beautiful MudWing named Fawn.