Will You Survive FNAF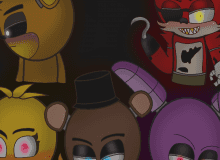 Hi! I am Spotatia the leopard! (Not really) but today you are going to meet my friends, Freddy, Foxy, Chica, Bonnie, Springtrap-not really.. but anyways, as well as Golden Freddy, Puppet, and Mangle. You will have a tour around Freddy Fazbear's Pizza. And I hope you survive!
But here are some tips to surviving: 1. Be NICE. No one but Springtrap likes mean people. 2. Be CAREFUL. Springtrap can get you whenever. And that's that, I hope you survive, gl!
Created by: Sen_Si