Who Loves You FNAF For Girls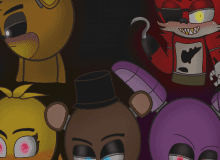 Hi everyone! It's Spotatia again! (Lol) I bet you were wondering in that other FNAF quiz about that result 'Someone Likes You!' Well.. now you don't need to anymore! Now you can find out who your special someone is!
So anyways, if you get someone like Springtrap, it's ok! Love is love! Even though no one would expect a person who you-don't-want-to-knows children/people and calls them rats to love you! But.. love is in everyone! In some way for something, but anyways, have fun!
Created by: Sen_Si