Who is your Undertale character?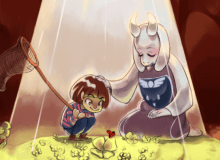 This wuiz is all about Undertale, and, if you were in the game, who you would be. Take this quiz to find out who you are in this captivating world about a human falling underground and befriending lots of monsters while also fighting with them and trying to save them.
I hope you very much enjoy this quiz, and like the person you have been chosen to become! Now move on to the first step of your fun-filled journey through the Underground!
Created by: C. Cole