Who in Hogwarts has a secret crush on you? (Boys edition)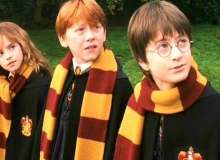 In that quiz you will find out which one of Harry Potter boys has a crush on you. Please don't take it to seriously. The fact that someone has a crush on you, doesn't mean that you will marry him.
The quiz focuses both on your physical appearance and your inner qualities. The results you can get: Harry Potter, Ron Weasly, Draco Malfoy, Fred&George Weasly, Cedric Diggory, Tom Riddle, Neville Longbottom and Severus Snape.
Created by: Yulia