Who are you at school? Girl addition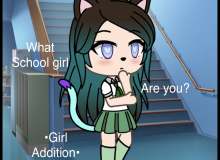 This quiz explains what school girl you are! If you never knew in the past, this quiz will tell you! This is very helpful if you forgot so let's get started! Try now!
This is the girl addition. The boy addition will come out soon! So stay tuned. Pick any answer and see what school girl you are! Are you ready? Try now! Lots of girls will try this to see what school girl they were in the past back at school!
Created by: Sophie Pugster