Which WOF Dragon are you?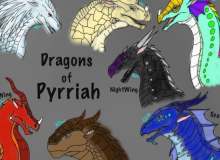 Ever wondered what Wings of Fire dragon you were? Well look no further, cause you're about to find out! Take this quiz as honestly as possible, and I'll give you, a 100% honest result! I hope you enjoy, and make sure to comment what you got down below!
Hi, before you take this quiz, I want you to know a little bit more about me. I am 13 years old, and I have read up to about the 4th Wings of Fire book. I love the series so far, and wanted to make this quiz dedicated to my newest obsession. And without further adieu, I present, my first quiz ever...