Which type of minecraft chicken are you?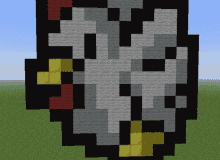 Do you find strange round things under yourself when you wake up? Are you covered in feathers? Are you pixelated? Do you land safely to the ground after jumping off a cliff? Then this quiz is perfect for you!
I wanted to do a 'chickens' song, but the quiz site said it had "Too much repeated text". Bet it would get 'annoying chicken' on this quiz! You'll have to make up the words yourself.