Which "The Office" character are you?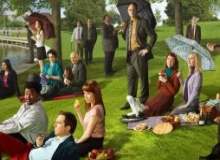 Have you ever wondered what "The Office" character you would be? Though the show has been over for quite a while, it's still massively popular. Maybe you're creative like Pam, or a leader like Dwight.
As a lover of this show, I feel it's my civic duty to make this quiz. Maybe you're funny like Michael, or a prankster like Jim. No matter what, you can't go wrong!
Created by: DarthNutella