Which The Forest Born wolf are you?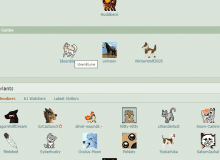 First off to new comers, This is based on a roleplay group and the characters within on DeviantArt, for now. We plan to move soon.. anyhow, This is the quiz of the wolves of Celestora. The quiz of just the current alphas is coming soon!
Second off, sorry everyone I didn't really go in depth with examining the wolves' characters. I mostly explained how you got any given result. Nevertheless have fun! I really adore this group and our plotlines are more than a blast! Also forgot how the quiz is structured with a sliding scale- woops. I wrote down the answers of each wolf. Their specific answer scores 3 points for their favor as a result. Otherwise +2 / -2.
Created by: Hucklberri of The Forest Born
(your link here more info)